Among commercial roofing systems on the market today, none are growing quite as quickly as TPO roofing. Thermoplastic polyolefin roofing is proving to be a fantastic flat roofing solution that is popular among roofers and business owners alike.
So what makes TPO roofing such a good option, and how do you know if it is the right option for your own roof? We've tackled these and other questions below so you can be well-informed for your next roofing project!
Thermoplastic polyolefin roofing systems are single-ply membrane systems. Single-ply membrane systems are made of rubber or other synthetic materials and can be installed using multiple methods. 
If you have seen a bright white flat roof, chances are that you've seen a TPO roof in action. TPO is a polymer blend consisting of a thermoplastic, rubber or elastomer, and a filler of some kind. There are many materials that can fill each role, meaning there is a wide variety of TPO systems that may perform differently in certain areas of performance. 
The Benefits of TPO Roofing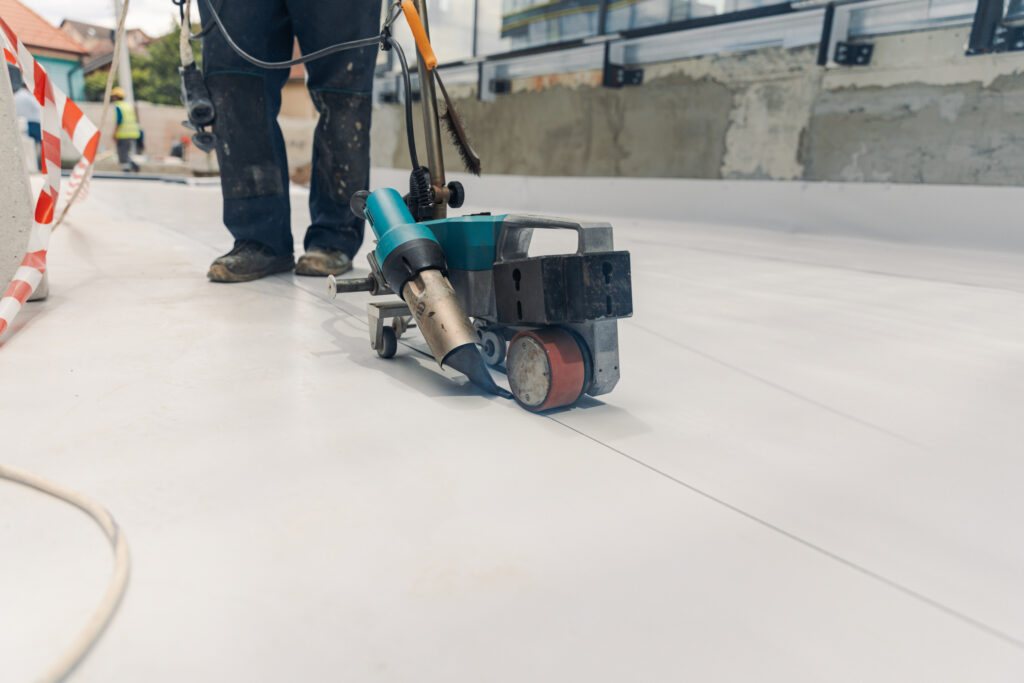 One of the most obvious benefits of TPO roofing is the white coloring of the system. This has the benefit of a cooler roof and energy savings. Since the color white reflects the sun's rays well, it makes your roof heat up less and therefore can save your business HVAC costs. 
TPO roofs are also a cost-effective solution compared to other types of roof like built-up roofing systems. TPO systems usually cost a few dollars less per square foot to install when compared to built-up roofs, which can translate to huge savings for larger roofs. 
Despite not being as old as other systems, TPO roofs have proven themselves to be a fantastic option for commercial roofs, especially in the Southwestern climate. 
Types of Insulation & Installation
Ballasting 
Mechanical fastening 
Chemical adhering
Common Insulation Options
Fiberglass
Polyisocyanurate (Polyiso)
Expanded Polystyrene (EPS)
Spray Foam
TPO is not the only kind of single-ply roofing system, despite it likely being the most prominent. Ethylene Propylene Diene Monomer (EPDM) is another single-ply membrane that consists of a synthetic, flexible rubber compound. Yet another common single-ply membrane roof solution is called polyvinyl chloride, or PVC. 
Where TPO shines among these two other types of roofing membranes are heat radiation reflection. mold/dirt resistance, and ozone/UV ray resistance. TPO membranes can also withstand certain chemical exposure as well, but this is highly dependent on the type of chemical. 
TPO roofing, due to the nature of the material and ease of installation, is generally a cost-effective solution for roofing. TPO roofs also don't include an insulation requirement, so customers are free to explore a range of options for insulation to pair with their TPO roofing system. This means you can find the combination that fits your budget and needs. 
The main cost-saving benefit, as stated above, is that the white coloring of this membrane reflects heat and UV rays, which will lower energy usage in the warmer months of the year. 
Even in departments where TPO is generally considered weaker, it can be made up for with attention to detail and regular inspections/maintenance. For example, it is generally understood that EPDM and PVC membranes can easily last over 20 years, while TPO roofs may last a few years less on average. Though, with the right TPO product, stellar installation, and regular inspections, the lifespan of a TPO can also stretch to 20 or more years.
Trust Century Roofing & Construction With Your TPO Roofing Needs!
Interested in trying TPO roofing for your business, or would simply like more information? We'd be glad to work with you. To begin, feel free to give us a call to receive a consultation and a free estimate from a member of our team! 
RESIDENTIAL & COMMERCIAL Roofing Contractors In El Paso, TX
Give us a call today to begin your roofing or construction project!
FREE ESTIMATE: (915) 261-7787